Wireless Bluetooth Portable High-Power Music Barrel Bluetooth Speaker
You will be able to hear sounds from over 600 feet away when set to maximum volume!
It's massive in power and compact in size at over a foot long, suitable for who loves music and loves having a great time.
PRODUCT FEATURES
3 POWERFUL SPEAKERS IN 1 SMALL BARREL
There are 3 speakers built into this monster, 2 of which are full frequency speakers and the other a high powered dual woofer.
You will be able to hear sounds from over 600 feet away when set to maximum volume!

CRYSTAL CLEAR HD AUDIO & KARAOKE ANYTIME
This is a premium high power portable Bluetooth speaker literally turn heads and get everyone's attention wherever you playing music or enjoying karaoke with your families and friends.
Its technology is cutting edge with smart treble/bass controls, professional turning at 192 kHz at 24 bits, and a distortion rate of negative 120 decibels...meaning crisp, clear HD audio whenever and wherever you want.
WIRELESS WITH MAXIMUM POTABILITY
It uses the latest wireless BlueTooth 4.2 technology, takes seconds to set up and is extremely easy to operate, even you don't know how to use Bluetooth.
It also features an auxiliary port if you prefer using an AUX cord instead. You can even preload it with music using an SD or TF card.
This speaker has dual microphone support so that you can use it with any 2 microphones.
It also has a built-in FM radio for when you get bored of your own music making this speaker perfect for karaoke and parties with your families and friends.
SPECIFICATIONS
Bluetooth: V 5.0
Bluetooth max transmission: 10m
Size:17 in / 42 cm
Signal to noise ratio: >=80dB
Audio input: AUX, USB, TF card, Bluetooth
Power: USB charge
Output power: 20W
Input voltage: 110V/220V/50Hz
360°high definition surround sound
Can connect to microphones
Built-in FM radio, easy operation, and additional USB charging ports
Lithium battery life: over 8-14+ of continuous playback per charge (depending on the volume you use)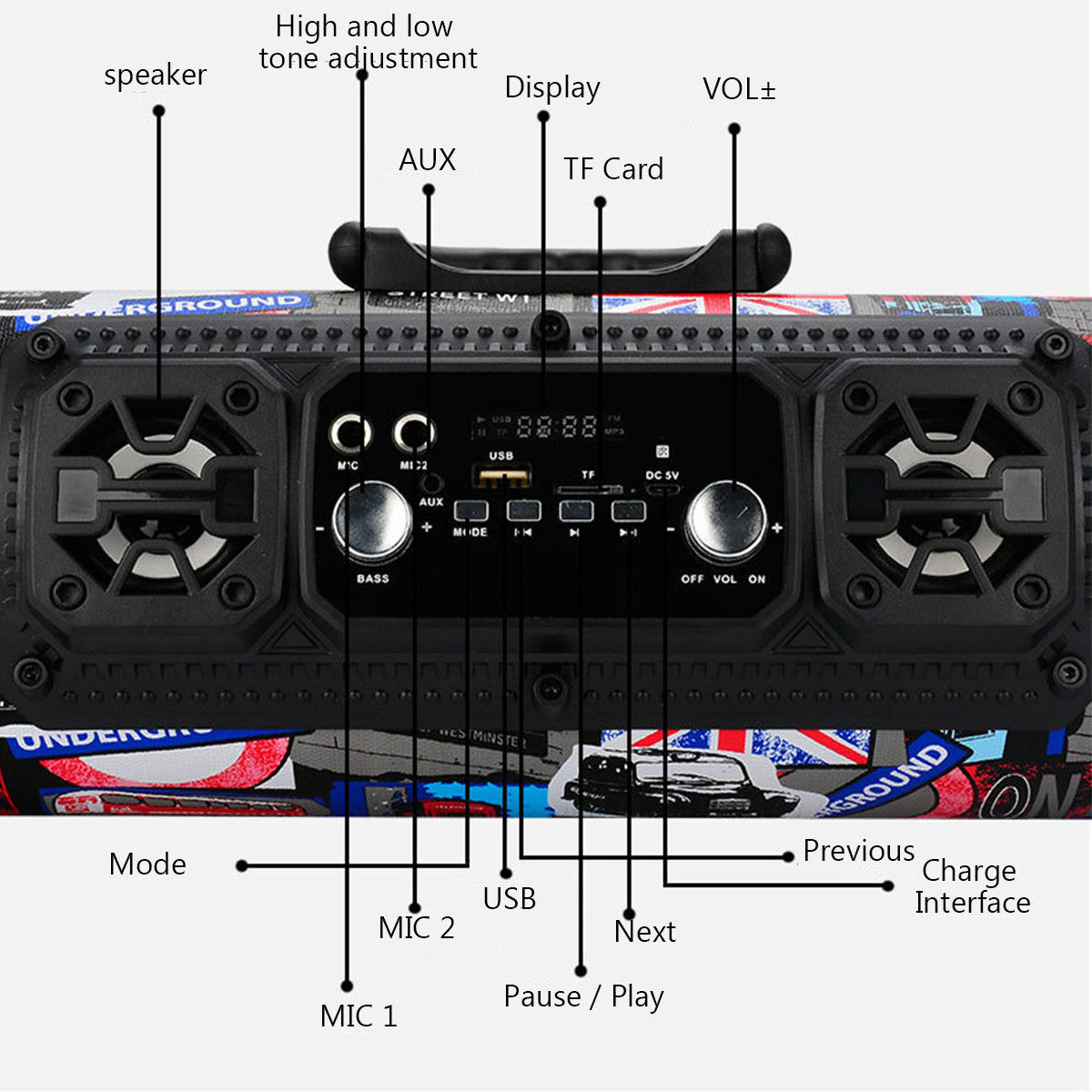 PACKAGE INCLUDES
1 * Wireless Bluetooth Speaker
GET YOURS NOW!!!