🧼Washing Machine Cleaner Tablet💦
Instantly improve the effectiveness of your washing machine and get cleaner clothes. These tablets are antibacterial, easy to use, and 10x stronger.
Just 1-2 tablets will instantly destroy the odor and bacteria that cause those gunky build-ups. Thanks to its exclusive deep clean formulation, instantly disintegrate deep dirt and grime while simultaneously eliminating 99.9% of bacteria in your washing machine.
PRODUCT FEATURES:
BAD SMELL? -

Are you tired of that really bad smell from your washing machine? If you DO, then you're in the right place because our wash wizard will help you to CLEAN BAD SMELL ensuring that your laundry comes out clean and smelling fresh like never before.
PERFECT WASHING MACHINE CARE

–

Even your washing machine needs washing every once in a while, and this washer machine cleaner is specially formulated to BREAK UP DIRT and residue with even 10 TIMES MORE CLEANING POWER than any other laundry machine cleaners in the market.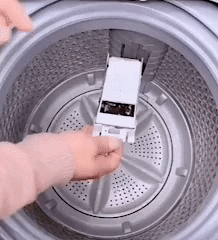 FOR ALL WASHING MACHINES

– Why buying front loader washing machine cleaner tablets, when now you can have these amazing cleaning tablets perfect for both FRONT AND TOP loading washers( High Efficiency and Conventional Washers) so you'll finally have your peace of mind.
SURPRISINGLY POWERFUL

- Designed to clean traces dye from your machine and provide PROPER CLEANING to the buildup of Dirt, and clean even the areas you can't visualize deep inside your washing machine.
REGULAR MAINTENANCE

- Not taking care of your washer will cause clothing quite a stink, that is why with just using our washing machine cleaner ONCE A MONTH you'll optimize the buildup of dirt, and soap deposits.
Usage Instructions:
Put one Washing Machine Deep Cleaning Tablet into the empty machine.
Turn on the washing machine and allow rotation for 15 minutes, switch it off and allow it to settle. (For optimal results, let the water sit in the washer for 30-60 minutes).
Switch the washer back on and finish out the cycle.
SPECIFICATION:
PREMIUM PACK (12 tablets) - SAVE 50%
ULTIMATE PACK (24 tablets) - SAVE 55%
FAMILY PACK (36 tablets) - SAVE 60%
PACKAGE INCLUDES:
1 X Washing Machine Cleaner Tablet Pack
Disinfect Your Washing Machine and Make it Germ-free.
GET IT NOW!