Picture Hanging Kit
Trying to hang multiple frames and aligning them can take a lot of time.
Eliminates all frustration and the regrets you had before and after you hang frames. Works on all kinds of frames, whether you want to hang large or small frames.
Now using a built-in leveler and marking pins, you know where each nail should go. Makes all End Results look right and Perfect.
PRODUCT FEATURES
Material:

Made of high quality ABS material,,No sharp edges, Safe to use. Marking nails, bubble Level and

No measuring is needed:

Picture Frame Ruler with hooks for Marking Position and Hanger Level. Picture Hanging Tool has built-in level to ensure that you can just visually hang your art where you want every time.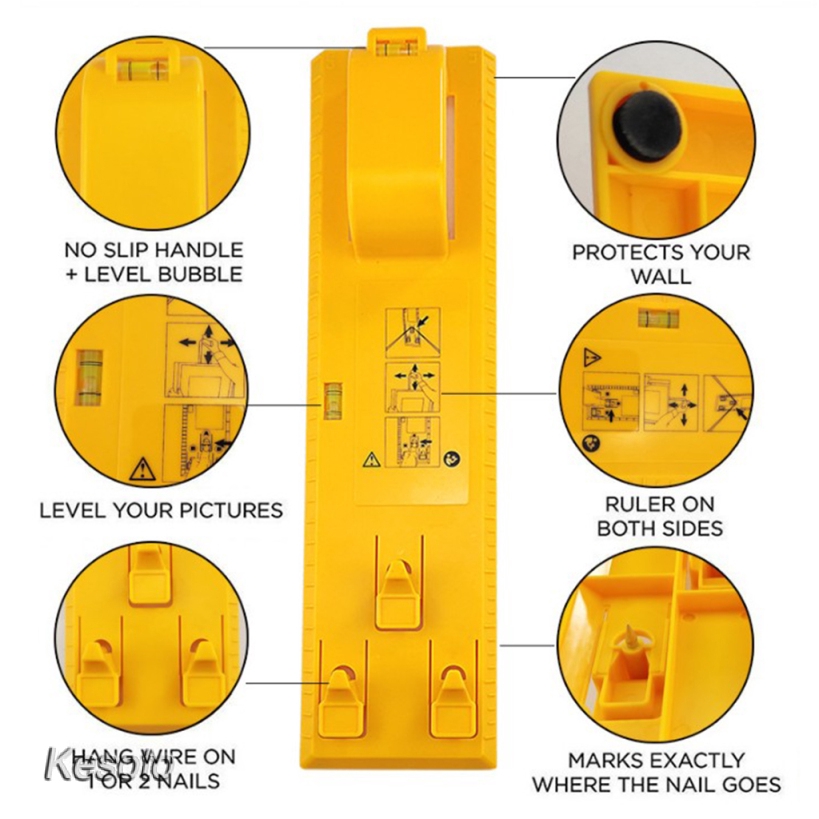 Versatile:

This set of picture hanger tool is perfect to hang pictures, frames,mirrors, clocks, plates, degree plaques.TV bracket, switches sockets on the wall, kitchen & bathroom accessories.
Vertical & horizontal bubbles built in the levels ensure your pictures are not CROOKED.
Easy to use, saves time:

walls & frustration, hanging a picture for perfect placement in seconds.Can be used for events like wedding, anniversary, birthday party
How to use?
Step 1: Place your picture frame or other items on the hook, (Use one hook for a small or light picture, Two hooks for large or heavier picture).
Step 2: Position your picture on the wall and find the right spot.
Step 3: Press the button and mark it.
Step 4: Hammer the nail directly into the mark.
SPECIFICATIONS
Material: high quality ABS material,
Size: (LxWxH): 280x13x2mm/11.02x0.51x0.07 inch
Color: Yellow, Green
PACKAGE INCLUDES